This event carries on the WTCA's tradition of honoring a select group of individuals whose initiative, perseverance and understanding of the global marketplace explicitly represent the criteria of the Hall of Fame Award. The event was attended by over 300 people which included distinguished citizens like the Honorable Beverly O'Neill, Mayor of Long Beach, Mr. Thomas Decker, President of the LA area Chamber of Commerce, and Ms. Mary Delmege, Western Regional Director for the US Department of Commerce.
The WTCA is honored distinguished individuals from a variety of industries, coming from as far as Sao Paolo, Brazil and as near as the Port of Long Beach. The other honorees were Mr. Robert Dedman, Chairman and Founder of ClubCorp; Mr. Ozires Silva, President and CEO of VARIG Brazilian Airlines; Mr. Bob Malone, President of BP for the Western United States and the Board of Harbor Commissioners for the Port of Long Beach.
Mantec International Services was established in 1994 by Mr. Arvinder Brara and Mr. Ishwinder Brara to assist US companies in successfully doing business with India. Mantec has successfully arranged numerous joint ventures, collaborations and marketing programs for American companies in India and is fully supported by its Indian affiliate Mantec Consultants, which was established in 1979 by Mr. Arvinder Brara and has a staff of nearly 100 engineers, MBAs, marketing personnel and IT personnel.
In collaboration with the World Trade Center Association Los Angeles - Long Beach, Mantec has been holding annual seminars to educate American companies about the Indian market. This series of seminars, titled "Opportunities for American Business in India", has shown many companies how to best benefit from this huge and lucrative market of a billion people.
Mantec has also been assisting American companies through the Information Technology manpower crunch of recent years. Mantec's India operations, based in New Delhi, include a software development center and a customer care center, which provide customer service and technical support for customers of American companies.
Mantec has worked with companies of all sizes, including Ford, Caterpillar, Kepner Plastics, Yankee Environmental Services, The Boeing Company, FM International, SouthTech Systems, Forma and many others.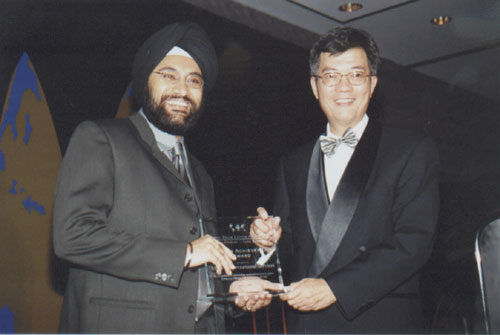 Mr. Ish Brara , Vice President Receiving the WTC Award